WLAN Network Makes Orientation in Hospitals Easier
Large medical facilities with their countless buildings, halls and rooms can often be likened to labyrinths. It is not only difficult to find one's way around as a visitor. Even understanding operational processes with mobile equipment and personnel has become a challenge. At the international trade show Medica from November 14 to 17, the Fraunhofer Institute for Photonic Microsystems IPMS will be demonstrating in a live presentation how an all-over WLAN Network can provide excellent conditions to localize technical instruments and personnel, as well as to get visitors to their destination quickly and easily.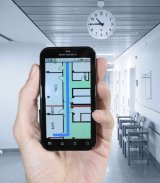 On a first visit to a large hospital, it is easy for people to lose their way and then only find it again after a long search and having to repeatedly ask for directions. Researchers at the Fraunhofer Institute for Photonic Microsystems refuse to resign themselves to this state of affairs. They have developed a navigation system that works indoors, just like GPS in a car, and leads the user to his destination. The software developed by Fraunhofer IPMS currently supports Android 2.3. and can, for example, be used as an app on a smartphone. The display shows a menu of possible destinations such as doctors' offices, examination rooms, patient rooms or washrooms. The menu is defined by the hospital. Following a successful selection, the current position is determined, and the shortest route to the destination is shown in a graphic while the position is constantly updated. »It is similar to the way the car navigations systems we are accustomed to work. The route guidance can be stopped at any time, and a new destination can be chosen«, explains head developer Hans-Jürgen Holland and emphasizes the advantages of the system: »Existing systems work with their own hardware, which in turn makes special devices necessary. We want to solve the challenge with smartphones and standard WLAN«.
The prerequisite for operation is a very good, gapless WLAN network that is set up in the hospital with so-called access points. The position is determined by a server based upon transmitter field point measurements of nodes or »hotspots« situated in the receiver range. »No problem,« says Hans-Jürgen Holland, »the WLAN network is being provided by our cooperation partner, the Swiss company LPS-Services SA«, which will also take over the distribution of the complete system. The advantage of the WLAN approach: Even technical instruments that have a mobile use or medical personnel can be equipped with WLAN nodes and thus be located at any time. Operational processes like examination or treatment routines can be easily tracked and optimized according to efficiency and convenience aspects.
At the 2012 Medica trade show for medicine in Düsseldorf from November 14 - 17, Fraunhofer IPMS will be showing a live indoor navigation demonstration using the example of position determination. In addition, the researchers will be presenting an exhibit on »Intelligent Hip Implants«, a measurement system integrated into a prosthetic ball with which the loosening of the prostheses can be detected. Visitors can find the Fraunhofer IPMS exhibit at the joint stand with the Chamber of Industry and Commerce, Stand E74 in Hall 3.
About Fraunhofer IPMS
The Fraunhofer Institute for Photonic Microsystems IPMS and its 200 employees turn over an annual research volume of 20 million euros. Fraunhofer IPMS generates more than two thirds of this production capacity out of commissions from industry and publicly financed projects in applied research. The focus of our development and production services lies in the practical industrial application of unique technological know-how in the fields of (optical) micro-electromechanical systems [MEMS, MOEMS]. Fraunhofer IMPS uses scientific know-how, application experience and customer contacts as well as modern equipment and clean room infrastructure. Fraunhofer IPMS covers a broad spectrum of industrial applications. Our services range from initial conception to product development, right down to serial pilot production – from a single component to a complete system solution.