Photonics Europe 2010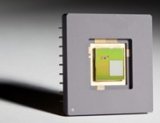 from April 13 to 14, 2010 in in Brussels/Belgium
Booth 611
In-Vision Digital Imaging Optics GmbH (Guntramsdorf, Austria) and the Fraunhofer Institute for Photonic Microsystems IPMS (Dresden, Germany) together present development results on programmable illumination optics during the trade show Photonics Europe 2010 (booth 611). The trade show is held in the Square Conference Centre in Brussels (Belgium), April 13 - 15, 2010.
Programmable illumination with micro mirrors
Widely used mechanical apertures in illumination systems for optical equipment and instruments can be replaced by programmable ultra fast Micro Mirror Arrays (MMAs) acting as high resolution Spatial Light Modulators (SLMs). This replacement enables new or significantly improved functionalities in numerous applications. As an example, high resolution light microscopy for biological analysis or semiconductor inspection is addressed. On the trade show the partners present key components for programmable illumination systems, comprising spatial light modulators, driving electronics and software, optical components as well as a programmable illumination module prototype. Significant development contributions were carried out in the EU funded FP7 project »Micro-mirror enhanced micro-imaging« (MEMI, EU FP7, Project Reference: 215597, www.memi-fp7.org). Within this project additional project partners are KLA-Tencor (Israel), Kings College London (Great Britain) and the Institute Pasteur (France).
In-Vision Digital Imaging Optics GmbH
In-Vision Digital Imaging Optics GmbH is a leading solution provider for optical system solutions in the field of industrial microdisplay applications. A strong focus is development ressources and competencies in optical design, thin film technology and system engineering with customized system solutions in applications such as biotechnology, medical technology, rapid prototyping, industrial projection applications amd digital cinema. Extensive production capabilities and an experienced and dedicated team enable sophisticated and problem oriented solutions and short development and delivery times.
Fraunhofer Institute for Photonic Microsystems IPMS
The Fraunhofer Institute for Photonic Microsystems IPMS carries out application specific research and development in the areas of microsystem technology and organic light emitting diodes. Fraunhofer IPMS supports his partners from first ideas, feasibility studies and prototype developments upto pilot fabrication. More than 200 scientists utilise a high end infrastructure to carry out projects in the areas of sensor and actuator systems, micro scanner devices, spatial light modulators, systems for life science and medical applications and organic materials and systems.